Teeth Whitening Specialist
Tustin Dental Center
General Dentists, Cosmetic Dentists, and Orthodontists located in Tustin, CA
Are your teeth yellow or stained due to bad habits such as tobacco use or drinking coffee? If you've tried whitening toothpastes and mouthwashes without significant change, it may be time to consider in-office teeth whitening. At Tustin Dental Center, Ahmed Elgazar, DDS, Ziad Tedini, DDS, and the team proudly offer professional, chairside teeth whitening. To request your appointment with the Tustin Dental Center team, call the office in Tustin, California, or use the online booking tool today. It's the first step toward a beautiful, white, and brilliant smile.
Teeth Whitening Q&A
Why are my teeth stained and yellow?
Like it or not, your teeth begin to yellow as part of the natural aging process. As you get older, the outer layer of your teeth, known as enamel, chips, cracks, and flakes away. Over time, this reveals the inner portion of your teeth, known as dentin. Dentin is naturally yellow in color. So the more enamel you lose, the more visible your dentin becomes.
Other factors that increase your risk of yellow or stained teeth include:
Poor oral hygiene
Tobacco use
Drinking dark-colored beverages such as red wine
Eating tomato-based sauces
You might also develop yellow or discolored teeth if you take prescription medications that contain tetracycline.
What is teeth whitening?
Teeth whitening is a type of cosmetic dentistry designed to eradicate stains and discoloration. The majority of modern teeth whitening treatments use carbamide peroxide as their main bleaching ingredient. Carbamide peroxide is completely harmless and safe to consume. It's also incredibly fast and provides near-instant results.
What type of teeth whitening treatment do you offer?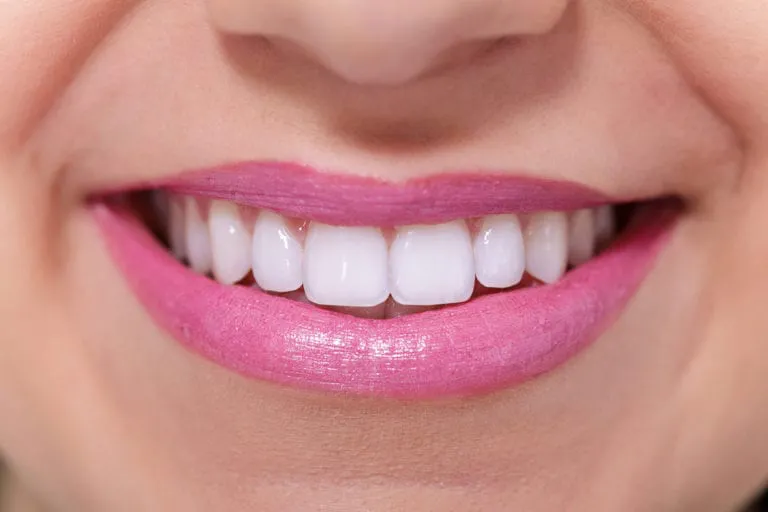 At Tustin Dental Center, the team offers in-office or chairside teeth whitening. Just one in-office treatment session can make your teeth up to eight shades whiter.
During in-office teeth whitening, your Tustin Dental Center provider places a rubber dam over your gums and tongue. Next, your dentist carefully applies a bleaching solution to the surface of your teeth. After applying the solution, your dentist lets it soak in for approximately 15 minutes. Finally, your dentist points a special light at your teeth. The light triggers a chemical bleaching reaction that eradicates stains and discoloration. Your dentist repeats these steps three or four times, a process that usually takes 90 minutes.
Is teeth whitening permanent?
Teeth whitening treatment isn't permanent, but it can provide results that last for between four and six months at a time. To extend your results, the team at Tustin Dental Center recommends brushing your teeth twice each day, flossing once a day, and visiting the dentist once every six months for a professional cleaning and exam. You should also avoid using tobacco products and drinking dark-colored beverages such as soda or coffee.
Don't let yellow or stained teeth negatively impact your confidence or self-esteem. Request your teeth whitening consultation at Tustin Dental Center today by calling the office or by using the online booking tool.